19th March 2020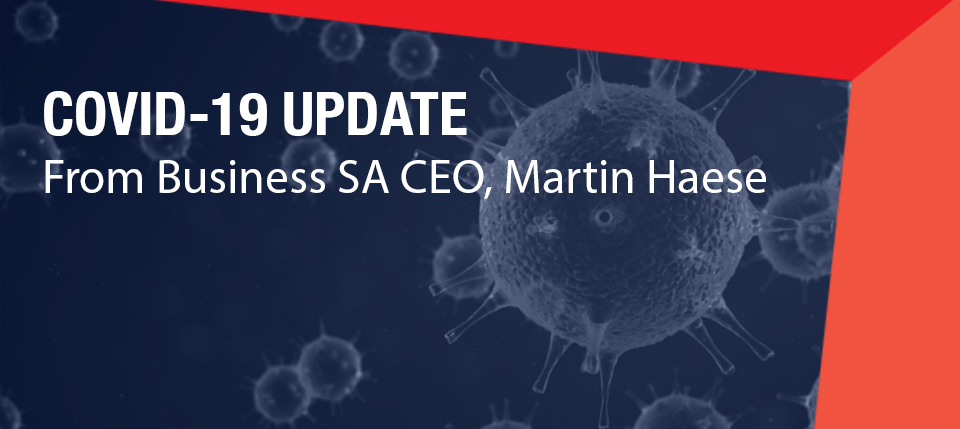 Our Business Advice Hotline and Workplace Relations Consulting team at Business SA have been inundated by concerned members and business owners looking for answers over the past few days.
Preparation and planning are keys to business resilience, and we have mobilised a range of initiatives to help you survive this event – and ultimately thrive.
With the health and well being of our own employees being paramount, we are implementing our own business continuity plan across our operations and I have outlined changes to the way we will go about our business with you below.
We are doing everything we can to provide you with the support and guidance you need to ensure our State can recover quickly.
Business Resilience Webinar
Shortly, you will receive an invitation to our free Business Resilience Webinar. This practical workshop will provide you with tools you can implement across your business immediately. It will cover topics including employment obligations and options, how to access support programs and short-term tactics to preserve cash flow when sales are down. Register here.
Free Employer Resource Guide
Please download the free Employer Resource Guide. This comprehensive document contains essential information about COVID-19, workplace relations and work health and safety (WHS) matters. Download it here.
Networking Events
Following current health advice to limit non-essential public gatherings in order to reduce the risk of spreading the coronavirus, we have made the decision to postpone our chamber networking events currently scheduled.
These include:
March Chamber networking event at Pattritti Wines on 31 March 2020
April Chamber networking event with NBN on 30 April 2020 at the Adelaide Convention Centre
We look forward to continuing these events as soon as it is safe and permissible to do so.
Learning events, training programs and workshops
We know our learning events, training programs and workshops are important to you.
We will continue to run these sessions, which only include approximately 20 people, but with additional hyenine and social distancing protocols in place. Where possible, we are also looking at alternate delivery methods to accommodate your needs.
Business SA staff working from home
We, like all SA businesses, are preparing for an uncertain future and as part of our own business continuity plan, a portion of our staff have begun working from home, and will continue to provide all of our services to you without interruption.
Advocacy
Our advocacy work on your behalf is critical at this time.
As the independent and local peak body for all South Australian businesses, Business SA will continue to advocate to State and Federal Governments for urgent support packages and job protection initiatives to be rolled out immediately.
We will be leading a Business Resilience Summit with South Australian business and industry associations in the coming weeks to deliver a coordinated action plan to help the business community bounce back from these events and ensure our State can recover quickly.
Support
We are doing everything in our power to support you during these unprecedented times.
As well as the comprehensive Employer Resource Guide members can also call the Business Advice Hotline on 8300 0000 for specific advice.
No problem is too big or too small and our highly experienced Senior Consultants are also on standby to provide you with specialist advice regarding COVID-19 workplace impacts.
Stay up to date
The Government health websites contain the most reliable and up to date information about the status of COVID-19 in Australia and globally.
We encourage you to check the Department of Health and SA Health websites regularly.
Stay strong.
Regards,
Martin Haese